September 1, 2019
The Lifelines of Jordan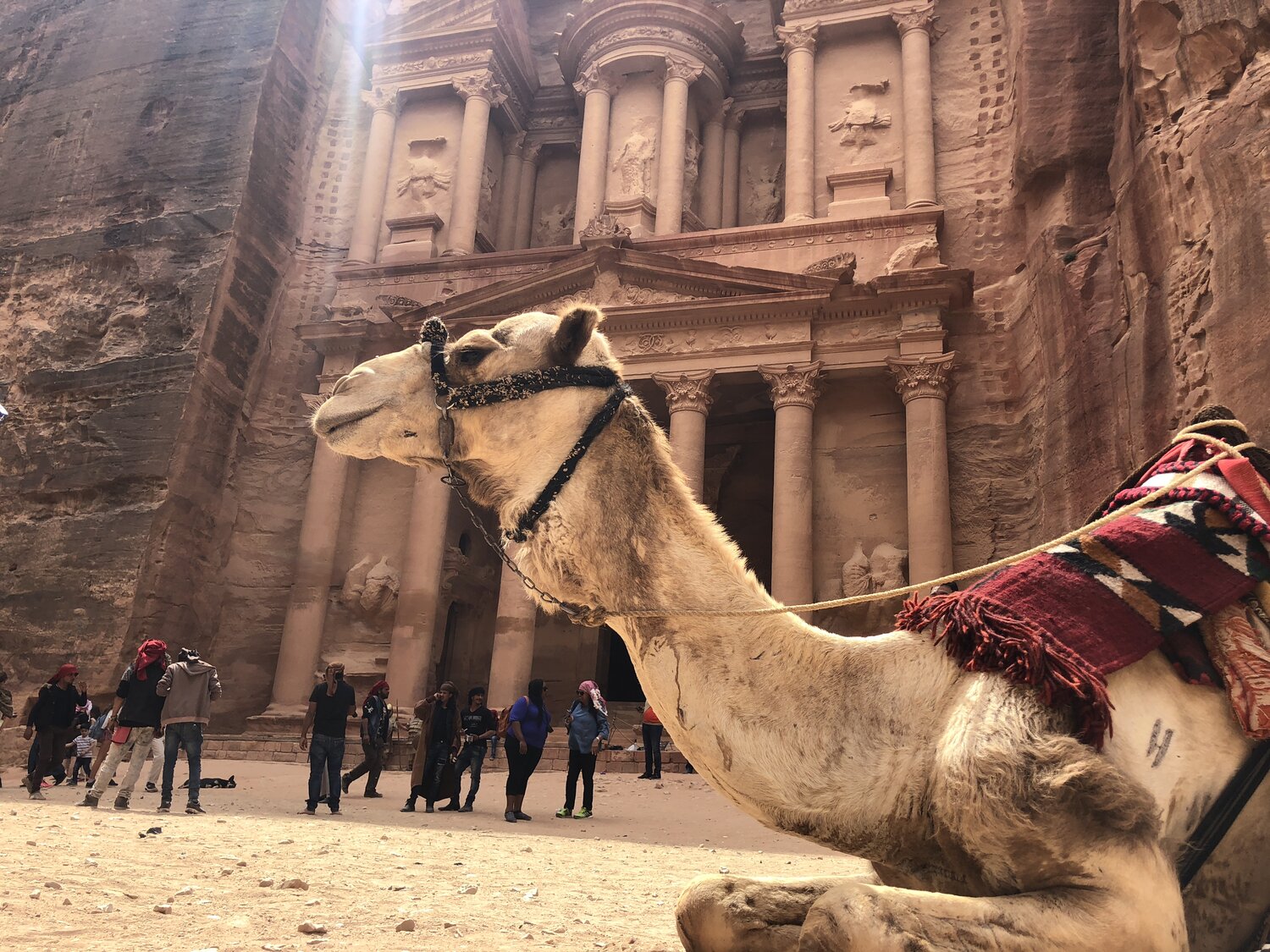 For those who enjoy traveling by road, Jordan offers a visual delight as one traverse's its length and breadth. Cruising along its highways dotted by fruit-laden carts and kiosks selling mineral water and chips, the unfolding scenery of golden yellow hills, green valleys and pretty houses made of sand and limestone makes the journey worthwhile. The journeys are albeit short (which is good!) and speedy with 3 hours being the longest time we traveled. One can find restaurants and souvenir shops with restrooms to make that pit stop to stretch and unwind with a bottle of beer.
Amman: Cosmopolitan and yet traditional this vibrant city and its beautiful people made our stay memorable. With its wide offering of luxury hotels and restaurants one is spoilt for choice – a feast for the senses, indulge in "Omali" a dessert at Grand Hyatt, delectable mezzes and chicken liver washed down with strawberry juice at Sufra's restaurant on rainbow street , succulent grills and crunchy salads at "whispers", and for those hankering for Indian cuisine- not to lose heart -the ubiquitous Indian "Chapatti restaurant" can dish out your favorite in a jiffy. Chesters Steak and Cigar house at Le Royale is my favorite with its panoramic views of Amman. Something worth mentioning is The Grand Ballrooms with its elegant interiors where many a wedding or event can be arranged with aplomb. The nightclubs come alive on Thursday nights at most of the Luxury hotels where one can groove to the music belted out by international DJs. Or you can relax at the restaurants and enjoy smoking the flavored hubbly bubbly over hot steaming cups of mint tea. Shop for olives, Baklava, nuts and dry fruits at the Al Hussein market, while downtown Amman has its local markets teeming with fruits and local produce. Just around the corner of this market is Habibah whose Kunafa beckons the locals. One has to partake this decadent sweet cheese pastry sitting on the sidewalk rubbing shoulders with the locals and savor it at leisure. Guys be warned, Gold Jewelry stores gleam invitingly and are hard to resist.
The Citadel: It seems to be a favorite for the local lovebirds to rendezvous. An evening well spent with a quiet stroll amongst the ruins accompanied by cool breeze and a view of Amman. The tiny museum housing artifacts for the history buff is manned by a friendly bloke who might just share his kettle of mint tea with you. Women wearing skirts watch out for the naughty wind or the sightseeing folk will get to see more than just the Citadel!
Jerash and Ajloun: Fancy some Roman ruins then "Jerash" is the place to be. If you hear strains of Bagpipe music don't be surprised it's a throwback to the World War 2 days when the British passed this on to the locals. Men clad in Kanduras play this for you in the Amphitheatre and is an unlikely sight you will find anywhere else in the world. Head out to Ajloun castle for the views and the photo op. If you leave early for this you can have the whole place to yourself- carry a picnic basket and lay back to soak in the views.
Jewel in the Crown: As we walk along the meandering path, the Barren landscape and craggy cliff faces unravel the hidden beauty of Petra. Time seems to come to a standstill and one is transported back in time to the days of yore when the Nabateans had their flourishing trade in these regions. Gladiators, donkeys, and camels in their colorful splendor add to the magic of Petra and the lone souvenir shack is the only jarring aberration in an otherwise idyllic setting. The Jordan Tourism Board has made efforts to retain the beauty of this place and hopefully the deluge of tourists in the ensuing years who are bound to discover this hidden gem will not mar this architectural and natural wonder. The Guesthouse and Cave bar located bang next to the visitor center are the perfect places to relax and enjoy a tipple after a day in the valley of Petra. Be treated like royalty at Mövenpick with its regal Syrian interiors and enjoy barbeque nights served on its terrace with your family. If one fancies learning exotic Jordanian Cuisine "Petra's kitchen" is the place to be, at JD 35 you can learn and eat a meal you cooked all by yourself! Or indulge in "Mansaf" – Jordan's National dish at the Qantarah restaurant where you will also meet fellow travelers from various parts of the world and exchange travel notes. Stroll along the town center and pick up a souvenir for your mantlepiece back home or for friends from a wide array of mosaics, stoles, and Dead Sea products.
Aqaba: With a lively city center, the port of Aqaba can be explored on foot. Our Guide Salauddin suggested that we shop for shoes to use for our hike in Al Mujib reserve which was sturdy and most helpful. We saw numerous Diving and snorkeling centers, public beaches which were clean and looked inviting. The evening was spent at street cafes, disco bars and for dinner, we tucked into generous portions of seafood served at Captains' Restaurant.
Honeymooners' Bucket list for Jordan: Petra by night tour and dine in style at Mövenpick petra ϖ Stay at a suite at Kempinski Aqaba with its Jacuzzi bathroom overlooking the Red Sea. Couples spa session at Mövenpick Resort and Spa on the Dead Sea. A cheaper option is to slather each other with the mudpack freely available at the private shore of the resort. Water trail Hike at the Al Mujib Biosphere reserve where you can bond with your love as you experience a tumultuous range of emotions be it fear of the unknown, excitement, relief, euphoria- sounds like marriage doesn't it? Share a Hubbly Bubbly at a café on Rainbow street. Valley of the Moon- The adrenaline rush, star gazing, bonfires and cozying up in the Bedouin tents while Glamping at Wadi Rum.